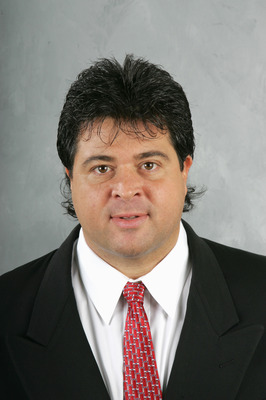 Alright, now I am forced to talk about this. With the recent firing of Scott Gordon, the Islanders are left in the hands of a former Isles assistant coach and former head coach of the Isles AHL affiliate, the Bridgeport Sound Tigers. Who is this mystery man who just had an NHL franchise dropped on his shoulders?
Jack Capuano
"Who is Jack Capuano? I have never heard of him before." This is the first thing that went through my mind after I heard about the coaching change at school. After some crafty texting and looking at my iPod touch, I found out exactly who the Islanders had hired. Here are some facts about the new man in charge of the New York Islanders.
His youth matches the Islanders. At 44, he is younger than Scott Gordon, and one of the youngest coaches in Islanders history.
Capuano has a history of playing hockey. He was drafted in the 5th round, 88th overall, in the 1984 NHL draft by the Toronto Maple Leafs. His NHL career was not too long, only 6 games. He played with the Maple Leafs, Vancouver Canucks, and Boston Bruins. Capuano's short NHL career would not register any points, but he would gain experience.
After his playing career, he turned to coaching. From 1997-1999, he was the head coach of a minor league team in the

East Coast Hockey League

. After he left the bench, he was the General Manager of the team until the team folded in 2005.
The Islanders hired Capuano to be an assistant coach for the 2005-2006 season, right after the NHL lockout in 2004-2005. That season, the Islanders only got 78 points and finished 12th in the Eastern Conference.
The next season, Capuano was an assistant for the Bridgeport Sound Tigers, the Islanders AHL affiliate. After that season, Capuano was named head coach of the Sound Tigers and remained as the head coach there until he was given the Islanders head coaching job. He had an impressive record as the Sound Tigers head coach, 133-100-8-14 in 3 seasons as head coach.
Capuano has coached 10 of the Islanders current players, which may be key since he won't have to get to know all of the players from scratch. This experience with the players will definitely help him with the team.
Jack Capuano brings a fresh start to the Islanders, and they really need it. 10 straight losses makes no one happy, except for the Islanders opponents. All of these facts say something about the person, but will it help the Islanders win games?
Only time will tell.
Lets Go Islanders!