While most of the hockey world is focused on the other two New York area NHL teams battling for the Eastern Conference title, I'm taking some time to focus on ranking the remaining Islanders that I didn't rank in my
previous
three
entries
. Once again, I'm only ranking the forwards that played in at least 20 games this past season. So players like
Micheal Haley
and
Rhett Rakhshani
will have to wait until they get more time on Long Island.
Photo Credit: islanders.nhl.com
Kyle Okposo had a very interesting season. Kyle spent some of the early part of the season up in the press box as a healthy scratch and the longest streak in his career without scoring a goal. It ended with Okposo recording the highest goal total of his career. In early November with the Isles struggling to put anything in the net, coach Jack Capuano put Okposo on a the Isles top line with forwards Matt Moulson and John Tavares. They produced and Okposo found his game that had gone missing at the start of the season. Ultimately, if PA Parenteau doesn't return, Okposo might get more time playing with them. If Parenteau returns, Okposo will likely play with the same people who he has played with most of the last couple seasons, Frans Nielsen and Michael Grabner. As for Okposo's ranking, it would have been higher had he been more consistant throughout the year. He was very streaky, going through long goalless droughts and hot goal scoring streaks. If he can figure out how to go on a good streak for most of the year, he will continue to be a top six forward on the Islanders for the upcoming future.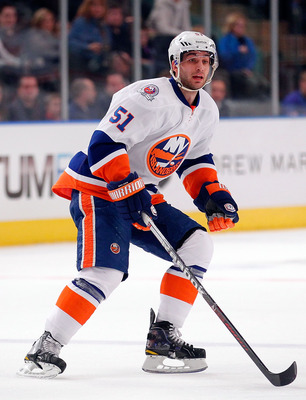 Photo Credit: Getty Images
Nielsen might have been the biggest bargain for the Islanders last season. Before I go into his offensive numbers, I want to write about his defense. He usually starts his shifts facing the other team's top line in the Islanders defensive zone or on the penalty kill. In the future, don't be suprised if he is nominated for, or even wins the Selke Trophy, which is given to the best defensive forward in the NHL. The defense is also one of the main reasons the Isles signed Nielsen to a 4 year/$11 million extension February. Another thing that probably won't show up on the back of his hockey card is that he is the best NHL shootout scorer since the NHL first implemented shootouts after the lockout. Nielsen is 23/38 in shootouts in his career. That is a 60.5% success ranking. That is the highest all-time of all shooters who have taken at least 30 attempts. This stat is even more astonishing because Nielsen uses the same move for almost every attempt. Now it is known as hte "
Danish Backhand
of Justice
." Goalies can't stop it even when they know it's coming. To top off all of this, Nielsen had the best offensive numbers of his career last season, scoring 47 points (17-30-47) while mostly playing with Michael Grabner and Kyle Okposo, and even playing on the power-play and penalty kill. With a new long term deal under his belt, Nielsen is no longer overlooked and underrated. It will be interesting to see if Nielsen can meet the lofty expectations the team has for him. At the pace he is going at, Nielsen will have a career next year.
Photo Credit: newsday.com
Theere is only one word that I can think of when describing Josh Bailey. Although I said this about Kyle Okposo, I feel like I need to say it again, inconsistant. This season was especially an up and down (mostly down) roller coaster. This year, Bailey played in 80 games. Yet he only got 32 points. (13-19-32) Out of those 32, 18 of them came in his last 20 games. That says two things. The first is that Bailey really finished his year strong and that this might continue into next season. Secondly, after doing the math, that means Bailey only had 14 points in his first 60 games of the seaosn. That number is just flat out awful. Bailey struggled to find the right role with this team as his linemates were constantly changing. He was a solid penalty killer and even scored three shorties this year, but for a #9 overall draft pick, he needs to get better on offense. If the Isles are to contend, they need to get more offense out of Bailey. Also, he needs to find linemates and stick with them for a while so they can develop chemistry, which didn't happen last season. Bailey needs to pick up the pace or he will be picked up and dropped in Bridgeport.
Credit: nyislanders.com
Michael Grabner came out of nowhere in the 2010-11 season to become the Isles leading goal scorer and a rookie of the year candidate. In the 2011-12 campaign, he had a reality check, and his numbers dropped significantly. Although Grabner still had the speed and ability to create chances and breakaways, for some reason, he didn't put them in the net. What's the reason behind that? I wish I could tell you. Maybe he was thinking too much, maybe he forgot to think at all. I even noticed that it seemed like he found new ways to miss every night. In any case, Grabner barely reached the 20 goal mark this year and maybe, just maybe, that is due to the fact that he took 54 less shots on goal than he did his rookie season, even though he played in two more games this year. His +/- also had a major drop, going from a +13 his rookie year to a -18 this past year. Many people, including myself, were expecting a repeat performance of Grabner's rookie season, but this year he proved that he is human. Next year will be a key year for Grabner to try to prove he is a consistant, reliable, and effective NHL forward.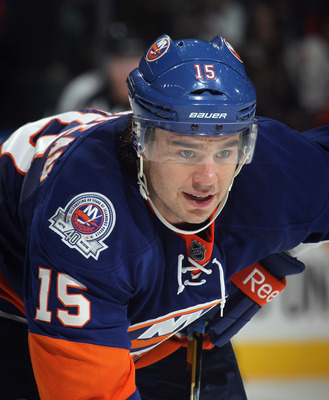 Credit: Getty Images
PA Parenteau's past season was without a dobut, the best he's had as a pro. Playing on a like with John Tavares and Matt Moulson for most of the year, Parenteau registered his highest career point totals. Although he did score two less goals than he did in 2010-11, his assists went up drastically. He had 49 helpers, which ranked him 12th in the entire NHL. When you add in his 18 goals, that gives Parenteau a career high 67 points, which was third on the team behind only his linemates. The chemistry he has with Tavaes and Moulson is almost undescribable. The three of them make one of the top scoring lines in the NHL, and they didn't change even when other lines changed throughout the season. Maybe his great year can be explained as such. Parenteau was playing in the final year of his old contract, and he wanted to send a message to Garth Snow and the Isles front office that he deserves a raise. He definitely got that message across. Parenteau has openly expressed that he
wants to be an Islander
, yet there is only one question that remains. Will Garth Snow match his monetary demands? If he does, Parenteau will continue to be a force on the Isles top line.
Photo Credit: newsday.com
After all these years of trying to find one, the New York Islanders have their superstar. The #1 overall pick in the 2009 draft had a breakout season, proving to the rest of the NHL that he is an elite player and a force to be reckoned with for the upcoming future. He played in his first All-Star game in January, and it probably won't be his last. He proved that he can be a team leader. (If
THIS
doesn't prove it, I don't know what will.)This past season, JT had new career highs in every major offensive category. Put together his 31 goals (20th in NHL) to his 50 assists (9th in NHL) and then you get 81 points (7th in NHL). That is just short of a point per game, which is phenominal for a 21 year old. There is also one other category that many people might overlook that might show why Tavares had his breakout season, shots on goal. In his rookie season of 2009-10, JT had 186 shots on goal. This past year, he fired 286 shots on net. That's exactly 100 more than he had his rookie year. The 286 shots ranked him 10th in the whole NHL. Tavares is getting more confident on the ice, so he feels better about taking shots then he might have in the previous few years. You can't forget about his defense. Capuano left JT and his linemates out for key faceoffs late in games when the Isles were protecting a late lead, and they
delivered
most of the time. Now that John Tavares is officially established as an elite center, it will be interesting to see how he handles the pressure that is put on him. I would expect him to have another career year as he tries to lead the Isles to the playoffs.
There you go. I've ranked every single Islander. Is anybody shocked that Tavares got the highest ranking? Do you think I messed up? I'd love to hear your opinions in the comments.
Lets Go Islanders!!!