Photo Credits: espn.com
If you did not read my
previous entry
, where I rated the Isles goalies from this past season, you should take a look at before you read this. Now, I'm going to rate all of the Isles defensemen. This time, instead of using letter grades, I will use a scale of 0-100, with 100 being the highest possible grade. The numbers can give a more precise ranking than the letters did. Any defenseman with more than 20 games played will be ranked, so one game wonders
Calvin de Haan
(left) and
Ty Wishart
(right) will have to wait to be ranked. They will get their chances. Enough with the future, let's look at the past season's defensemen.
Photo Credit:
sports.yahoo.com
#3
Travis Hamonic
84/100
After playing 62 games during his rookie season, Hamonic came into this season knowing exactly what was expected of him. He did not disappoint any of the critics. This season, Hamonic appeared in 73 games, and kept on playing late in the season even though he had a broken nose. For most of the season, he was paired with Andrew MacDonald, and the two were a great defensive pair, oftene being sent out to play against the other team's top lines. Hamonic's offensive totals (2-22-24) aren't awful, but he known for defense, and some other stats prove it. He was 17th in the whole NHL in blocked shots with 157, and he also had 170 hits. Another baffling number is that Hamonic had the highest +/- of any Islander, registering a +6. That might not seem like much, but the fact that any Islanders were a positive this season is a statement in itself. If Hamonic can pick up his offensive game and keep his defensive game up, then he can be an elite defenseman in the years to come.
Photo Credit: newsday.com


#47
Andrew MacDonald
79/100
While his partner Travis Hamonic definitely improved from 2010-11 to this past season, Andrew MacDonald might have regressed a little bit. In 2010-11, A-Mac only played in 60 games, but had 27 points (4-23-27) and was a +9. This previous season, he played in 75 games, most of them with Travis Hamonic, and only registered 19 points (5-14-19) and was a -5. What can be the reason behind this? One reason may be that he and Hamonic always played against opponent's top lines and that may have had something to do with it. Also, MacDonald has definitely not been as much of an offensive threat as he was in previous seasons. MacDonald has done great on defense, and his rating isn't any higher because of the significant points drop.
#24
Steve Staios
71/100
Photo Credit: daylife.com
If you have been clicking on players names throughout this entry, you have seen some of the highlights provided by the Isles this year. When you see the Steve Staios highlight, you gain satisfaction. At 38 years old, Steve Staios didn't even have a guaranteed contract in the preseason. It was only after Staios had a great preseason that the Isles signed him to play along Mark Streit as the top defensive pair. Staios played in 65 games this season, nine more than he played in his last two seasons combined with Calgary. He also played in his 1000th career
game
late in the season against the Jets. His offensive numbers (0-8-8) don't tell the whole story. Staios wore an 'A' on his jersey for all home games because of his ability to be a veteran leader and mentor on a team made up of very young players. His rating is only a 71 because he was a -19 for the season, and he really didn't too much. When watching him during games, I often found myself wishing Staios would do more. I dobut he will be back next season with all the young d-men the Isles have. Not a bad year for a man that resurrected his NHL career for another season.
Credit: post-gazette.com
#27
Milan Jurcina
62/100
Milan Jurcina's season is also a very interesting one. This season, he played in 65 games, 19 more than he did in the previous season. However, his numbers are just dreadful. He only had 11 points. (3-8-11) It seems like all of his shots went wide, and he reminds me a little bit of Rick
"Wild Thing"
Vaughn in the
Major League
movies. He has a great slapshot, probably around or maybe over 100 miles per hour. However, he has trouble getting it on net. Another dreadful stat is his +/- of -34. You read that correctly -34. That means when at even strength, the other team scored 34 more goals than the Isles did when Jurcina was on the ice. If he can figure out his slapshot, then he can be a nice complement to Mark Streit.
Credit: newsday.com
#42
Dylan Reese
66/100
Reese has been called and recalled by the Bridgeport Sound Tigers mutiple times this season. Next season, I would hope that he will start the season in the NHL. He only played in 28 games this season, and in many of those games, he was paired with Mark Streit. He had seven points (1-6-7) in those 28 games. More suprisingly, his +/- was 0. He was dead even in that category. Reese is very young and talented, and with Steve Staios unlikely to return, a roster spot will be open. I think that Reese is the leading candidate for that spot. He is the guy the Islanders went to before Aaron Ness, Matt Donovan, and Calvin de Haan, who all had breif call ups. For this past season however, we didn't see too much, but we saw glimpses of what looks to be a bright future for a good young defenseman.
Credit: timesunion.com
#4
Mark Eaton
73/100
What a year it's been for Mark Eaton. He is the textbook definition of a defensive defenseman. Most of the year, he was with Milan Jurcina, so his +/- took a hit at -17. But for at least one game in Ottawa, he was the man. It was his 600th National Hockey league game, a one to remember, and in overtime, he broke a long scoreless drought by scoring his first goal as an Islander. You can watch it by clicking on his name just above. Eaton has been a very solid defenseman for the past couple seasons. His rating is the way it is because while he has done little offensively, his defense has been superb. He should be back next season and I don't see why the Isles wouldn't bring him back.
#2
Mark
Streit
88/100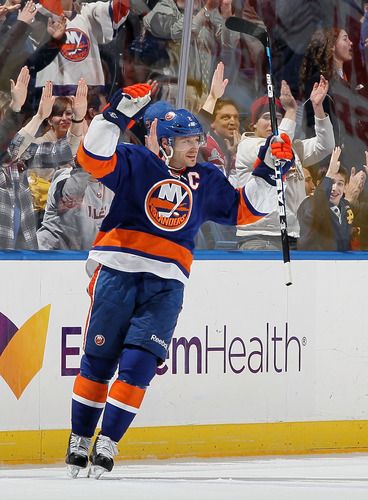 Credit: Getty Images
After missing all of the 2010-2011 season, the Islanders still had the confidence to name the 34 year old Mark Streit from Switzterland as the next team captain after Doug Weight's retirement. This season, Streit showed
why
he was an All-Star and led the team in points back in 2009. At times this season, mostly toward the end of the year, he played like the elite defenseman the Isles want him to be. Although his 47 points (7-40-47) are a decrease from his previous totals, Streit definitely had his best season as an Islander this year. Streit was the leader of the Islanders powerplay from the blue line, and he wasn't afraid to step up and go to the
dirty
areas
near the opponent's net. Streit appeared in every Isles game this season, and one of the main reasons his ranking isn't higher is his +/- of -27. That just isn't good at all. If the Islanders can find Streit a great partner to compliment his offense for next season, they might have a legitimate chance at reaching the playoffs.
That's it for the defensemen. Next up will be the forwards. Since there are so many of them, I might do the forwards in two separate entries. If you disagree with any of the rankings I made, I'd love to hear your opinions in the comments.
Lets Go Islanders!!!