I have absolutely no idea what is happening. But the Islanders have just won 2 of their last 3 games and recording at least a point in each one. And the best part about this is that they were all close games. When earlier it seemed that the Islanders could not figure out a way to win, they are figuring out ways to win now. Yes, it is only 2 wins, but they are 2 hard earned wins and 5 hard earned points. Let us take a look at these last 3 games because there may not be too many more bright spots soon.
Game 1: Ducks @ Islanders.
(photos from sports.yahoo.com)
The Islanders score 3 goals in under 2 minutes, and cling to a 1 goal victory. Great goaltending by Rick DiPietro and solid defense kept the Ducks out of the net when it mattered most.
Former Islander Jason Blake is smashed by Milan Jurcina
Thanks for leaving Jason. We don't miss you.
P.A. Parenteau Celebrates his goal.
Game 2: Coyotes @ Islanders
To see a video of this fight, click
HERE
.
Michael Grabner celebrates a goal. Yeah,
he scored while falling down. This is the first luck
I have seen the Isles get in a while.
Gillies connects.
Although the Islanders didn't win this game, as a matter of fact, they blew the lead with 1:28 left.
(
See video.
)
They played hard for the full 60 minutes and overtime, and rookie goalie Nathan Lawson showed some promise. They may need that promise if DP can't suit up again soon. The Isles didn't lose the game, they just got unlucky in the shootout. No big deal.
Game 3: Lightning @ Islanders
The red-hot Tampa Bay Lightning just came into town today. They took an early lead, and thanks to another P.A. Parenteau goal, the Islanders tied the game late in the 2nd period. Dwayne Roloson, at age 41, had a spectacular game in net. The big finish would be when John Tavares, breaking out of his recent slide, scores the winner past Lightning goalie Dan Ellis in overtime and sends the few fans at Nassau Coliseum into a frenzy. This is the win I personally was looking for, a grind-it-out defensive game where a play in front of the net decides the game. John Tavares parked in front of the net, and didn't leave until the puck was in the net. He was like a basketball player boxing out for a rebound. The now hot Islanders cooled off the Lightning.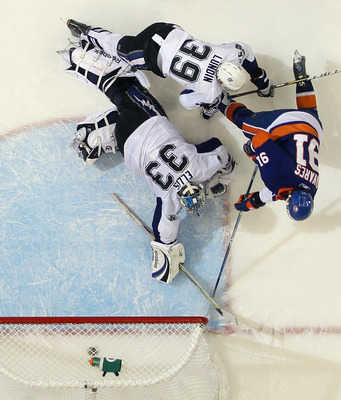 3 games. 2 wins. 5 points. That's all is in the standings. But in reality, it is a huge victory for Jack Capuano, who can possibly have 3 great goaltenders, if they are all healthy. The young team is starting to gel. Hopefully it keeps on happening, because I am liking what I am seeing for once.
Happy Holidays!
Lets Go Islanders!!!!